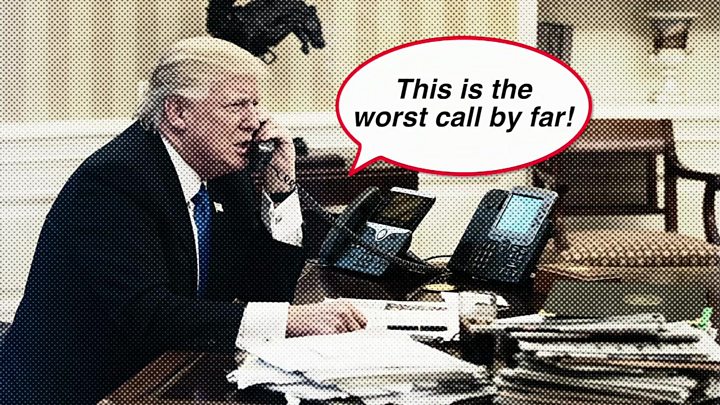 US President Donald Trump will host Australian Prime Minister Malcolm Turnbull on Thursday to reaffirm ties after a rocky start earlier this year.
Mr Trump had reportedly labelled a February call between the two about a refugee deal as his "worst" that day.
The leaders' first meeting in person is expected to cover topics including security, trade and North Korea.
It is also to mark 75 years since the Battle of the Coral Sea in World War Two, key to ties between the nations.
"My meeting with President Trump will provide an opportunity to reaffirm our alliance and the United States' engagement with the Asia Pacific," Mr Turnbull said in a statement.
The US in turn had equally warm words ahead of the talks.
"The president looks forward to meeting the prime minister and showcasing the enduring bonds, deep friendship and close alliance the US has with Australia," White House press secretary Sean Spicer told reporters.
Calming the waters
The two will meet in New York aboard the USS Intrepid, a WW2-era aircraft carrier which took part in the Battle of the Coral Sea and is now a museum ship.
Mr Trump has been critical of a deal struck with the Obama administration which would see up to 1,250 refugees to Australia resettled in the US in exchange for Australia resettling refugees from El Salvador, Guatemala and Honduras. In a February tweet, he called it a "dumb deal".
Since then though, US Vice President Mike Pence has said his nation will honour the agreement but only because of "the enormous importance of the historical alliance between the United States and Australia".
Australia is one of the United States' staunchest allies and troops from the two countries have fought together in all recent major conflicts including Iraq and Afghanistan.
North Korea tensions
But there will be more to discuss between the two leaders than the refugee deal.
In a time of growing tensions in the Asia-Pacific region, North Korea, China and wider Asian stability are likely to be on the agenda.
Tensions have been rising around the Korean peninsula, with repeated threats from North Korea and the presence of a group of US warships and a submarine.
North Korea reacted angrily to US military activity in the region, accusing the US of risking a nuclear war.
Another concern to address from the Australian side will be how the Trump administration's America-first trade policy might affect economic relations between the two countries and between the US and Asia in general.
In one of his first actions after taking office, Mr Trump pulled his country out of the Trans-Pacific Partnership trade deal, a 12-nation trade agreement which would have included the US, Australia and much of the Asia-Pacific.
Trump and Turnbull set to mend strained ties}