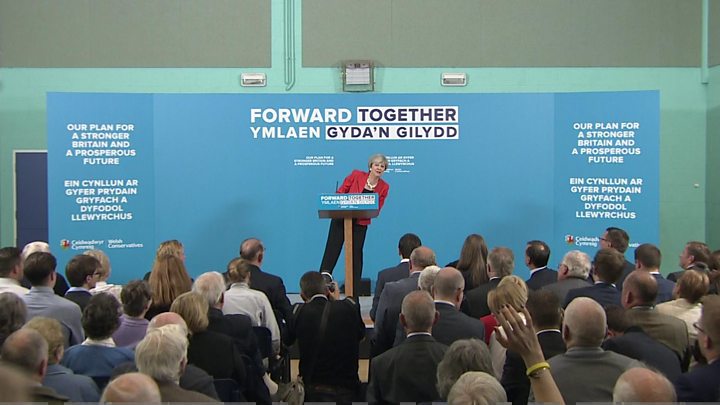 Theresa May has said proposed changes to social care funding in England will now include an "absolute limit" on the money people will have to pay.
The Conservatives ruled out a cap on total costs in last week's manifesto, instead saying no-one would see their assets fall below £100,000.
The PM defended the "sensible" plan, saying the system risked collapsing.
But she said she wanted to address "shameful" fears that people would be forced to sell their family home.
She told activists in Wales that the Conservatives were "determined to fix the system" and put a sustainable long-term solution in place which deals with the strains on the social care system from an ageing society.
She insisted that no-one would have to sell their home to pay for care while they were alive and people would still have "something to pass on to" their family after their death.
"We will make sure there's an absolute limit on what people need to pay. And you will never have to go below £100,000 of your savings."
The prime minister denied that it was a U-turn, insisting that "nothing had changed" and "the basic principles" set out in the manifesto remained in place.
Asked what level the cap would be set at, she said that would be a matter for the consultation. And she hit out at what she said was "fake" portrayals of the policy by Labour and other critics – who have labelled the move a "dementia tax".
---
Analysis
By Health Correspondent Nick Triggle
This represents a complete U-turn. The cap – a 2015 election promise – was ditched last week with the Tories briefing it would be too expensive because of the ageing population.
Instead they wanted to set a "floor" in England – hence guaranteeing everyone in England would be able to keep £100,000.
But after a weekend of damaging headlines, there has clearly been a re-think. Merging together two policies may prove difficult however.
What they proposed in the manifesto in regards to including the value of a person's home was not in the original proposals for a cap. Are the two things compatible?
What about the level of the cap – set at £72,000 last time? And where will the money come from? The cost was estimated at £6bn over five years. These, the Tories say, are all questions for another day.
---
The BBC's assistant political editor Norman Smith, who was earlier told by Tory sources that there would be no "rowing back", said the prime minister was now "completely refashioning the policy" and had effectively "ripped" up a four-day-old manifesto commitment.
Are you or your relatives affected by social care? What difference would the proposed cap make to you? Email us at haveyoursay@bbc.co.uk
Former Chancellor George Osborne, now editor of the Evening Standard, tweeted that the move was a U-turn.
Currently, people living in residential care can ask their local authority to pay their bill and recover the money from the sale of their family home after they die.
The Conservatives' plan would extend this right to those receiving care in their own homes, who would have to pay until they were down to their last £100,000.
Under the Conservative plans nobody with assets of less than £100,000 would have to pay for social care. Currently anyone with assets of over £23,250 is expected to pay the full cost of their residential care and the value of their home can be taken into account.
But that is not the case if you receive care in your own home. Under the Tory plans the value of your home may in future be factored in, although the money would not be taken from your estate until after your death.
This means some people fear they will not be able to pass their homes down to their children.
An independent report in 2013 called for a cap on total care costs of £72,000 – a proposal originally backed by the Tories before the 2015 election but subsequently deferred until 2020.
Labour leader Jeremy Corbyn had accused the Conservatives of "forcing those who need social care to pay for it with their homes", labelling the policy a "dementia tax".
The Lib Dems, meanwhile, had said nine out of 10 homes would be eligible to be sold under the new regime, citing Land Registry house sale figures.
Former leader Nick Clegg said Theresa May had suffered a "manifesto meltdown" and the changes raised questions about her leadership. He told the BBC that she had still not provided certainty to families about how much they would have to pay for domiciliary care.
The Conservatives had attempted to fight back online, with a paid-for ad on Google which pop up when users of the search engine type in the words "dementia tax".
The ad reads "The so-called 'dementia tax' – Get the real facts – conservatives.com, together with a link to an explainer about the party's social care policies on its website.
---
Are you or your relatives affected by social care? What difference would the proposed cap make to you? Email us at haveyoursay@bbc.co.uk
You can also contact us in the following ways:
General election: Theresa May changes social care plans}