The National Farmers' Union (NFU) wants to encourage a change in attitude to flower buying to help British growers.
Currently, around 90% of flowers purchased in the UK are shipped in from abroad, mainly from Holland and as far away as South America and Africa.
In 1988, the British flower industry was worth £79m and has remained roughly the same ever since.
However, the value of imported flowers in the UK has risen from £122m to £666m over the same period.
At the Columbia Road flower market in east London, Shane Harnett runs a plant and flower stall which was set up by his family in 1912.
He only sells produce grown in the UK – and told Sky News why British growers face a difficult task: "It comes down to price. It also comes down to production costs being cheaper abroad.
"Obviously a lot of people are governed by the price they want to pay."
He added: "I wouldn't say our stuff is any more expensive. Sometimes it's cheaper.
"But obviously the big supermarkets and garden centres like to buy from abroad because they can get constant stocks and big volumes."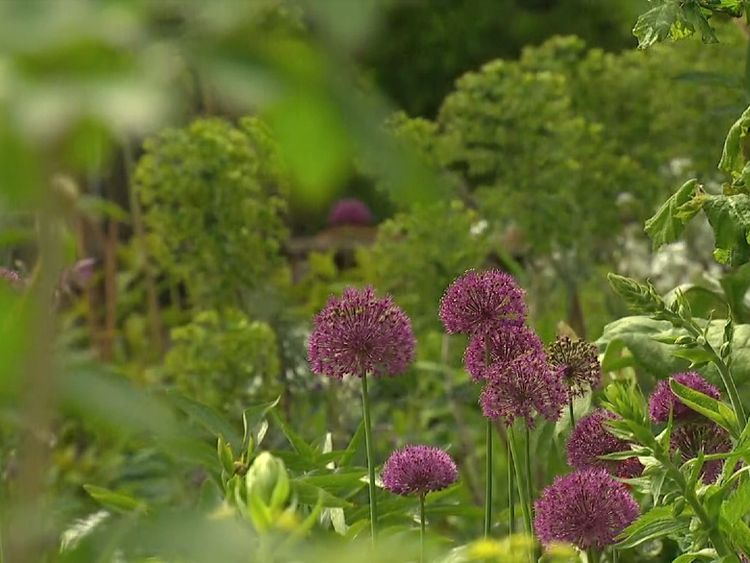 The call for new labels comes ahead of the Chelsea Flower show which starts this week.
Tamsin Borlase grows flowers at her farm, Bosley Patch, in Oxfordshire.
She's part of the Flowers from the Farm organisation which is backing the NFU plans.
"It's about making a big song and dance about the wonderful flowers we have in this country at this time of year and accepting that in winter time go for something different," she said.
"So on Valentine's Day don't give roses – give a beautiful hyacinth or even snowdrops – which are completely different than the commercial things that are coming in from Holland."
A full report on how to boost the British flower industry will be published in June during British Flowers Week.
It'll include plans on new labelling and the development of a British cut flower growers' association.
Call for special labels to boost UK flower sales – Sky News